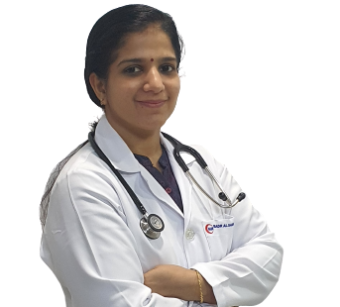 Dr Aarcha Prabhan
Specialist Paediatrician
Paediatrics & Neonatology
MBBS, MD
5 years of experience
Suwaiq (Oman)
About Dr Aarcha Prabhan
Dr. Aarcha Prabhan is a well qualified and experienced  paediatrician. She has worked in various private hospitals and medical colleges in India. She secured first position in the post graduate neonatology quiz conducted by National Neonatology forum, India in 2016. She has presented poster in National Pedicon, Hyderabad in 2016 - A case study on late presentation of congenital diaphragmatic hernia.

Excellence & Experience
Area of excellence
Managing Common Childhood Illnesses and Infections
Routine Paediatric Checkups
Expertise in Managing Sick Babies
Developmental and Behavioral Issues in Children
Paediatric Allergy and Asthma
Managing Nutritional and Growth Disorders in Children
Level of Experience
She has worked as Junior Jonsultant and Assistant professor in the Department of Paediatrics, TravancoreMedicity, Keral. She also worked as Assistant Professor in the Department of Paediatrics SR Medical College, Trivandrum, Kerala
Awards & Academics
Academics Details
MD Paediatrics from Government Medical College, Cuttack, India
MBBS from Government Medical College, Thiruvananthapuram, Kerala, India
Out Patient Timings
The outpatient timings at Badr Al Samaa Hospitals have been planned in such a way that your choice of doctor is available whenever you are free.
Sunday
9:00 AM - 1:00 PM
Suwaiq - Oman
5:00 PM - 9:00 PM
Suwaiq - Oman
Monday
9:00 AM - 1:00 PM
Suwaiq - Oman
5:00 PM - 9:00 PM
Suwaiq - Oman
Tuesday
9:00 AM - 1:00 PM
Suwaiq - Oman
5:00 PM - 9:00 PM
Suwaiq - Oman
Wednesday
9:00 AM - 1:00 PM
Suwaiq - Oman
5:00 PM - 9:00 PM
Suwaiq - Oman
Thursday
9:00 AM - 1:00 PM
Suwaiq - Oman
5:00 PM - 9:00 PM
Suwaiq - Oman
Friday
Saturday
9:00 AM - 1:00 PM
Suwaiq - Oman
5:00 PM - 9:00 PM
Suwaiq - Oman