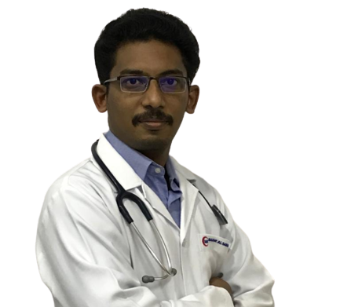 Dr Asif Ansar
Specialist Orthopaedician
Orthopaedics
MBBS, D. Ortho, DNB Orthopaedics
7 years of experience
Suwaiq (Oman)
About Dr Asif Ansar
He is an experienced and well qualified orthopaedician who has good track record of treating hundreds of patients with complex orthopaedic conditions.  He has done successful done Nailing of femur and tibia, Proximal femur nailing for intertrochanteric fracture, Open reduction and internal fixation of ankle, distal radius, forearm and patella, K wirings, Tendon repairs and External fixator application for open fractures. He has assisted for Total hip and knee replacement, Hemiarthoplasties, Arthroscopic procedures, ORIF humerus, proximal tibia and distal femur.
Excellence & Experience
Area of excellence
ORIF of Distal Radius fracture, Forearm fra, Humerus fra, Femur fra, Tibia fra and Ankle fracture
Intramedullary Nailing of Femur and Tibia fra
Proximal Femur Nailing and DHS fixation for Intertochanteric fra
Hemiarthoplasties
K wiring and fracture fixation
Tendon repairs of upper and lower limbs
Intra-articular injections for Osteoarthritis, Periarthritis shoulder
Local injections for Inflammatory and degenerative conditions
Closed reduction and plaster application
Reduction of dislocations
Management of Chronic back pain and neckpain including intervertebral disc disease.
Management of Paediatric trauma
External fixator application
Level of Experience
He has worked with many corporate and government institutions in India before joining Badr Al Samaa Group.
Awards & Academics
Academics Details
MBBS - MES Medical College Perinthalmanna, Calicut University, Kerala (2010)
D. Ortho - JJM Medical College Davangere, Rajiv Gandhi University of Health Sciences, Karnataka (2015)
DNB Ortho - Medical Trust Hospital Kochi, Kerala, National Board of Examinations (2019)
Out Patient Timings
The outpatient timings at Badr Al Samaa Hospitals have been planned in such a way that your choice of doctor is available whenever you are free.
Sunday
9:00 AM - 1:00 PM
Suwaiq - Oman
5:00 PM - 9:00 PM
Suwaiq - Oman
Monday
9:00 AM - 1:00 PM
Suwaiq - Oman
5:00 PM - 9:00 PM
Suwaiq - Oman
Tuesday
9:00 AM - 1:00 PM
Suwaiq - Oman
5:00 PM - 9:00 PM
Suwaiq - Oman
Wednesday
9:00 AM - 1:00 PM
Suwaiq - Oman
5:00 PM - 9:00 PM
Suwaiq - Oman
Thursday
9:00 AM - 1:00 PM
Suwaiq - Oman
5:00 PM - 9:00 PM
Suwaiq - Oman
Friday
Saturday
9:00 AM - 1:00 PM
Suwaiq - Oman
5:00 PM - 9:00 PM
Suwaiq - Oman