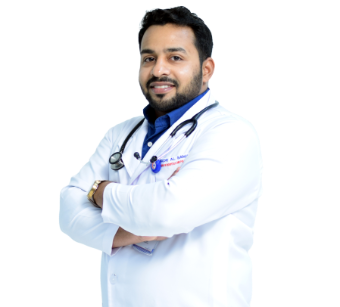 DR MIDHUN THAMAEASSERIL
General Dentist
Dentistry
BDS
8 years of experience
Suwaiq (Oman)
About DR MIDHUN THAMAEASSERIL
Dr. Midhun Thamarasseril is a Dental Surgeon with tremendous knowledge of Dental Care processes and procedures. He has 6 years of professional experience both in India and the Middle-East. He has excellent X-ray interpretation skills and is also very knowledgeable about preventive measures for teeth related diseases. His ability to perform dental procedures like surgical and non-surgical extraction of teeth, root canal procedures, replacing missing teeth and the ability to perform effective oral hygiene procedures are also worth mentioning. Dr Midhun has also participated in Oral Awareness and Screening Camps.
Excellence & Experience
Area of excellence
Surgical and Non-Surgical Extraction of Teeth
Root Canal Treatment
Teeth Whitening
Diastema Closure
Treatment for Sensitive and Broken Teeth
Level of Experience
Dr Midhun has served in various Dental Clinics in India. He has overseen a couple of Dental Clinics in Kerala, India and has been working in Badr Al Samaa Group of Hospitals and Polyclinics for more than 2 years.
Awards & Academics
Academics Details
Bachelor of Dental Surgery (BDS) - Dayanada Sagar College of Dental Sciences, Bangalore - 2011
Videos of DR MIDHUN THAMAEASSERIL
You can get to know more details here about the doctor who will be treating you, and their professional expertise in their field of specialisation.
Out Patient Timings
The outpatient timings at Badr Al Samaa Hospitals have been planned in such a way that your choice of doctor is available whenever you are free.
Sunday
9:00 AM - 1:00 PM
Suwaiq - Oman
5:00 PM - 9:00 PM
Suwaiq - Oman
Monday
9:00 AM - 1:00 PM
Suwaiq - Oman
5:00 PM - 9:00 PM
Suwaiq - Oman
Tuesday
9:00 AM - 1:00 PM
Suwaiq - Oman
5:00 PM - 9:00 PM
Suwaiq - Oman
Wednesday
9:00 AM - 1:00 PM
Suwaiq - Oman
5:00 PM - 9:00 PM
Suwaiq - Oman
Thursday
9:00 AM - 1:00 PM
Suwaiq - Oman
5:00 PM - 9:00 PM
Suwaiq - Oman
Friday
Saturday
9:00 AM - 1:00 PM
Suwaiq - Oman
5:00 PM - 9:00 PM
Suwaiq - Oman