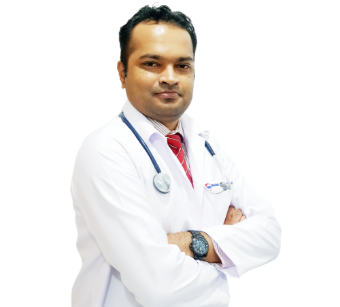 DR Tejas Balaji Narasimha
Specialist Orthopaedic Surgeon
Orthopaedics
MBBS, MS (Orthopaedics)
Suwaiq (Oman)
About DR Tejas Balaji Narasimha
Dr. Tejas is a qualified Orthopedic Surgeon, who has trained in the Premier State Govt. Institute of Karnataka, Bangalore Medical College & Research Institute (BMCRI) and has subsequently worked in the field of Orthopaedics for more than 5 years after Masters.
After Masters, he practiced in the high volume Indian Government institute of ESI in Bangalore for 2 years before coming to Oman. He has previously worked in Sur Hospital, Ministry of Health, and Oman for about 3 years before joining Badr Al Samaa Group of institutions.

Excellence & Experience
Area of excellence
Traumatology (Assessment & management of Fractures, Dislocations including experience of performing fracture fixation surgeries)
Arthroplasty - Evaluation of Patients & Assisted Senior surgeons in Arthroplasty procedures of the Hip & Knee
Spine - Evaluation of patients with backache, Disc diseases & Management of the same and assisted Senior Surgeons in performing Disc Surgeries
Level of Experience
Senior Resident of Orthopaedics, Rajarajeswari Medical College, Bangalore
Senior Resident Of Orthopaedics, ESI Medical College (Govt. of India), Bangalore
Specialist Orthopaedics, Sur Hospital &Polyclinic, MoH (Oman)
Awards & Academics
Academics Details
MBBS, St Johns Medical College, Bangalore (2009)
MS (Orthopaedics), Bangalore Medical College& Research Institute, Bangalore (2014)
Out Patient Timings
The outpatient timings at Badr Al Samaa Hospitals have been planned in such a way that your choice of doctor is available whenever you are free.
Sunday
9:00 AM - 1:00 PM
Suwaiq - Oman
5:00 PM - 9:00 PM
Suwaiq - Oman
Monday
9:00 AM - 1:00 PM
Suwaiq - Oman
5:00 PM - 9:00 PM
Suwaiq - Oman
Tuesday
9:00 AM - 1:00 PM
Suwaiq - Oman
5:00 PM - 9:00 PM
Suwaiq - Oman
Wednesday
9:00 AM - 1:00 PM
Suwaiq - Oman
5:00 PM - 9:00 PM
Suwaiq - Oman
Thursday
9:00 AM - 1:00 PM
Suwaiq - Oman
5:00 PM - 9:00 PM
Suwaiq - Oman
Friday
Saturday
9:00 AM - 1:00 PM
Suwaiq - Oman
5:00 PM - 9:00 PM
Suwaiq - Oman